New business mission at international Building&Construction shows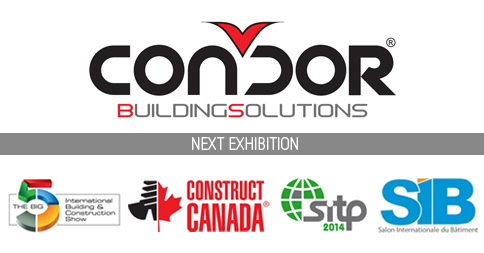 CONDOR will participate the fairs in Dubai, Algiers, Casablanca and Toronto planned for Nov. and Dec.
CONDOR S.p.A. – specializing corporation in innovative systems for the building and infrastructure industry – is reintroducing the business plan designed for the internationalization and confirms the goals exploring new markets.
The Italian multinational enterprise  will be a key player at the most important international shows from the building and construction industry, scheduled for November and December.

November 17 - 20 at the Dubai World Trade Centre, CONDOR will participate the 35th edition of the "BIG 5 – International Building & Construction Show" in Dubai [United Arab Emirates] stand MEC G71. Since 1979 the Big 5 represents the most prestigious show, the right event to exhibit and gain access to the existing opportunities of the MENA and South-eastern Asia markets.

November 19 - 23 at the Exhibition Palace "Pins Maritimes", CONDOR will make its first appearance at the 12th Edition of "SITP – Salon International des Travaux Publics" in Algiers [Algeria] Pavillion Italien, stand B2, reference event to public works' sector.

November 26 – 30 at International Fair of Casablanca, CONDOR will be present at the 15th Edition of "SIB – Salon International du Bâtiment" in Casablanca [Morocco], biennial event dedicated to entrepreneurs and manufacturers from building and construction industry in the Mediterranean Basin. 

In closing, December 3 - 5 at Metro Toronto Convention Centre, CONDOR will join the 26th Edition of "Construct Canada" in Toronto [Canada], stand 2344-2345, the North-America's largest exposition for  building, projecting, furnishing and real estate industries.