CONDOR will be the new location for CNR's technology centre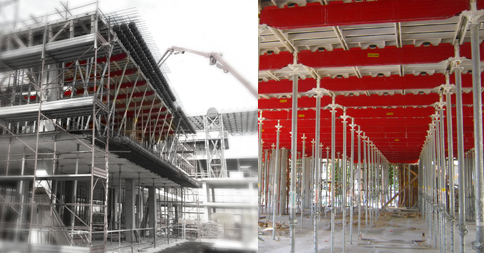 Aludeck formworks will reduce the duration of works by 70% compared with traditional systems
CONDOR – a company specializing in innovative systems for the construction and infrastructure sectors – was chosen to carry out the ultimate project for the new location of the National Research Council's (CNR) "Technology Centre" in Naples, ordered by the Ministry of Infrastructures and Transports, through the interregional Public Works Department of Campania and Molise.

The CNR plans to build a big building for the Combustion Research Institute and the Institute for electromagnetic sensing of the environment, in his area located in via Marconi, in the Fuorigrotta district.

This is an impressive result for Condor, and a reward for all the investments in research and innovation which have been made over the years. This Italian multinational group provides "Torri MC" and "Aludeck" slab formworks, which make up a cutting edge system used to build 10.000 square meters in slabs, reducing time by 70% compared with traditional systems. Amongst all the advantages of Aludeck, time saving is impressive: for instance, three people need 1.5 days to slip form about 550 square meters of slabs, whereas using traditional timbering system they would need 10 working days just for slip forming. After this procedure, the installation of iron requires two/three days and one day is needed to cast concrete. In this case, each ceiling requires 160 cubic meters of concrete.

The speed of progress provides substantial savings: aludeck enables to cast one ceiling per week (or three casts per month for sure), whereas the traditional system allows one ceiling per month. This 1 to three proportion is projected over: lead time (reducing the company's economic exposure); reduction of labor costs and material savings (traditional systems employ high quantity of wood, which is brought to zero by Aludeck).

"Aludeck is a full slab horizontal formwork system in reinforced concrete– Antonio Lanzano explains, owner of Tony Costruzioni, who provides reinforced concrete works to Pacifico Costruzioni, the company who was awarded the contract – and it is made up by iron or aluminum supports, framework beams and aluminum frame panels, dismantling heads, fixed heads and hole covers. Dismantling heads have an auto-blocking fastening system and, since it is a standard module systems, it is not necessary to measure supports distance nor the beams spacing. These features make installation extremely easy and reduce the risk of errors up to zero".

This project is included in the "Intervention plan" approved by the Italian interministerial economic committee (CIPE), relating to the adjustment of the program agreements MIUR-CNR. The structure will be built on a 6,500 square meters area and three different buildings will be made around one central court.

"Thanks to our Research, development and quality control center– says Francesco Petrosino, CONDOR General Manager – we could develop the Aludeck system, an innovative product for ceilings which brings significant advantages, compared with traditional systems: we use a lower number of supports, which means shorter lead time; easy handling, thanks to the lightness of aluminum high-resistance parts; we use both CEP and ALUCP supports; thanks to the dismantling head, dismantling and panels and beams removal can be performed even 48 hours after casting. After dismantling, panels and framework beams are removed but headed supports and hole covers stay installed; they can be re-used after dismantling, in order to reduce the quantity of provided parts. In this way, lead time for ceiling, as expected on the work program are substantially reduced, together with labor costs, and the company can soon monetize incomes provided by work progress, in compliance with safety regulations and respecting the high quality of casting, called "open-face".

The development of scientific and technological activities of the CNR required a new location displaying all the requirements requested by safety regulations, aiming to describe a repeatable "container of experimental activities" showing high flexibility and easy modularity. These two features are compulsory to design buildings for research activities and they are implemented in all CONDOR products, in accordance with the main European safety regulations.
Interview to Surveyor Vincenzo Esposito, Tony Costruzioni Srl:
"I tested CONDOR systems, achieving the perfect solution: work is faster, working procedures are safer and, thanks to the high quality CONDOR technical service, the formworks project was timely, deliveries were fast and just one technical assistance intervention was needed for employees to learn how to use the system."